Relax – we've got your back
Tired of awkwardly holding a back scrub brush with one hand, but not be able to reach every inch of your back? Need to scrub dead skin cells but just don't have the right grooming tool (or the physical arm-to-back flexibility) to do it? Let our Silicone Massage Scrubber do the work for you.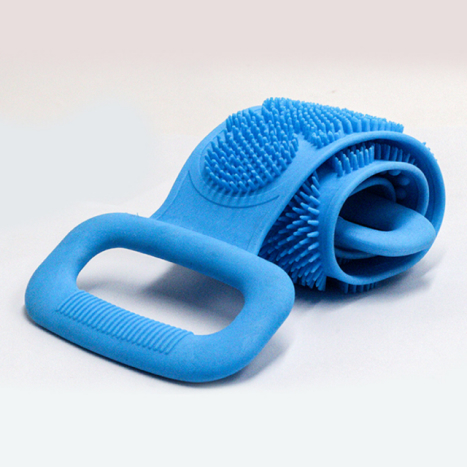 It's a spa-like experience
If you've ever had your back scrubbed deeply with a soothing scrub at a spa, you'll know just how amazing it feels. Recreate that experience all by yourself with our full-length back scrubber. Its silicone bristles exfoliate dead skin while stimulating blood flow for ultra relaxation.
Ergonomic design
Dual non-slip handles allow you to hold your scrubber from shoulder to lower back with ease. Our scrubber spans 23.6in (60cm) in length.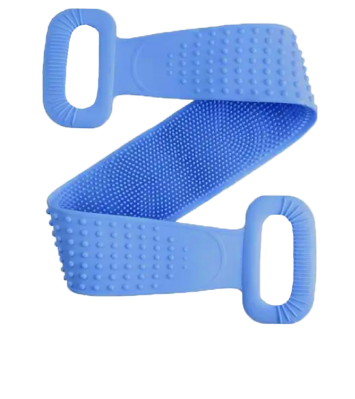 Dual-sided action
One side of our scrubber features soft, beady bristles for gentle cleaning while the other has pointier, more aggressive bristles for a deeper clean.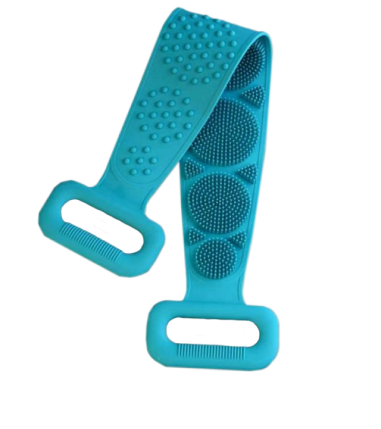 Three fun colors
Add a pop of color in your shower with our Silicone Massage Scrubber, which is available in blue, green, purple.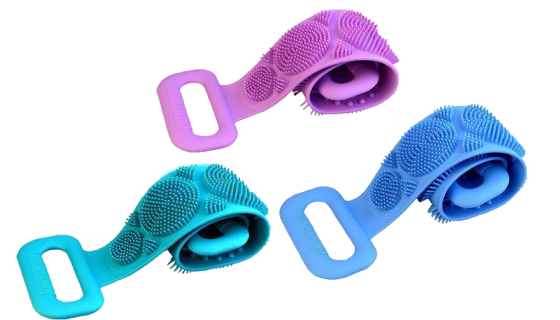 Bring the Spa to Your Shower
Say goodbye to awkwardly maneuvering a back scrub brush and struggling to reach every inch of your back. The struggle to exfoliate effectively is a thing of the past! Our innovative silicone massage scrubber is designed to take the effort out of your daily grooming routine.
If you often feel the need for a deep, soothing, and relaxing back scrub at a spa, this tool is for you. We help you replicate the invigorating experience right at home with a full-length back scrubber. Equipped with silicone bristles, it effectively exfoliates dead skin and stimulates blood circulation.
The outcome? Ultimate relaxation.
Designed for Ease and Comfort
Our silicone massage scrubber features dual non-slip handles for a secure grip. You can effortlessly use it from your shoulders down to your lower back. With a generous length of 23.6 inches (60 cm), it doesn't leave any spots untouched.
The smart scrubber boasts a unique dual-sided design. One side is adorned with soft, rounded bristles for gentle cleaning, while the other features pointier bristles, perfect for a deeper, more vigorous scrub.
Liven up your shower space with a pop of color! Our silicone massage scrubber comes in three vibrant shades:
Pick the one that suits your style, and get ready to add a cheerful note to your bathroom décor!
One of the key features of our silicone massage scrubber is its exceptional ability to balance thorough cleaning with skincare. The silicone bristles, while effective at removing dead skin cells, are gentle and soothing on your skin. This means you can enjoy a refreshing scrub without causing irritation or harshness.